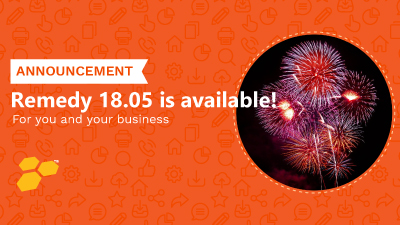 Introduction
With this release, BMC Remedy 18.05 is moving to a version numbering system that reflects a time-based release cycle, with predicable feature releases every 6 months. Version 18.05 represent a release in May 2018
BMC Remedy 18.05 delivers exciting new capabilities in support of BMC's focus on a modern user experience, integrations with external systems, reduced TCO for the Remedy environment, and improved support for compliance initiatives like GDPR. In addition, this release continues to improve on product quality and performance.
Remedy IT Service Management 18.05 highlights
Enhancements to the New CMDB User Experience
BMC introduces the new version of the CMDB Explorer with improved search capabilities, increased functional coverage, and the continuation of our migration away from Flex/Flash for the CMDB UI.
Enhanced Deployment Application (D2P) for Automated Deployments
BMC has significantly enhanced the Deployment Application, which now includes an automation interface (CLI) for the Dev-to-Prod mechanism. This supports continuous, automated deployments (DevOps), which can be invoked from the automation or orchestration tool of your choice. Also, support is added for additional objects like CMDB classes and attributes, ITSM Application Templates (Incident, Change, and Work Order) as well as the ability to extend the underlying D2P framework to support custom content packages. There are improvements to the security and permission model of the Deployment Manager Console, which also includes the ability to import the BMC signed package (patch).
New Remedy Management Console
To help customers further reduce total cost of ownership and simplify administration of Remedy, BMC is introducing Remedy Management Console for Remedy Administrators that helps make administration, monitoring, and operations of the Remedy server group environments more efficient.
Remedy License Management Enhancements
The new version makes license management simpler. Administrators can now start managing Remedy user licenses in the system in alignment with how their company bought user licenses. Bundled licenses (platform and application user licenses combined) can be assigned to users, and consumption of bundled licenses is controlled and measured by the system. License management now extends into Knowledge Management as well. The new capabilities are introduced as opt-in options. Existing license configurations continue to work as before.
Identification and Management of Personal Data for Data Privacy and the GDPR
The Remedy 18.05 solution provides capabilities that help administrators address the personal data protection and privacy requirements associated with the General Data Protection Regulation (GDPR). The GDPR is a set of rules and principles governing the handling of personal data of individuals located in the European Union (EU).
The Remedy 18.05 release includes several additional product enhancements, such as a direct integration between Smart IT and BMC Digital Workplace Advanced to show service requests submitted by business users, or a new option to directly manage ticket attachments in the mid-tier ITSM UI. For detailed information about the enhancements in this release and the list of issues that have been corrected, see the release notes for each component.
New Smart IT 18.05 release coming soon
A new version of Smart IT, version 18.05, is planned to be released soon, with a simplified architecture and further improvements in UI configurability. Smart IT 18.05 is planned to be released with "Controlled Availability" (CA). For a limited time, downloads of this product require Product Management approval. If you are interested in participating in the CA program for Smart IT 18.05 for an immediate production rollout, please fill out the following registration survey. Only a limited set of customers will be granted access to the CA release for production use to ensure that BMC can provide close support and guidance to early adopters of the release, and to maintain visibility of each adopter's progress. Later, the new version will be made Generally Available (GA).
If you use Smart IT, please note that Remedy ITSM applications and Smart IT must be upgraded to version 18.05 at the same time. Please wait for the release of Smart IT 18.05 before upgrading Remedy ITSM applications. If you use BMC Digital Workplace with Smart IT, you must upgrade it to version 18.05 before upgrading ITSM applications and Smart IT to version 18.05.
BMC Multi-Cloud Service Management 18.05
BMC Multi-Cloud Service Management 18.05 enables multi-provider brokering to efficiently manage and resolve issues. Augmenting the capabilities of Remedy IT Service Management Suite, BMC Multi-Cloud Service Management helps organizations solve specific challenges of managing cloud services through an integrated and shared service desk. Key highlights for the 18.02 and 18.05 releases include:
Integration of Remedy with multiple instances of Jira to have one integrated Service Desk for multiple DevOps teams.
Consolidation of and collaboration on cases from Service Cloud into Remedy as Incidents.
Automatic push of incidents from Remedy to CA Agile Central (Rally) as user stories with bi-directional collaboration.
Bi-directional collaboration between Incident or Change in Remedy with the corresponding Issue in Jira.
Synchronization of important updates between cases in AWS and Incidents in Remedy.
Related Resources