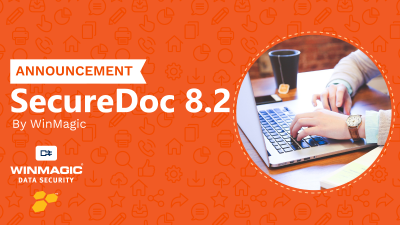 Convergence Starts Here
Purpose-built for a new, unified approach to encryption and key management.
WinMagic SecureDoc 8.2 will enable your customers to protect data across their endpoints, datacenter and cloud – and view it all from a Single Pane of Glass empowered with new features.
Simplified Deployment
Automated Compatibility – A new XML file embedded in installation packages detects certain hardware and automatically applies best-known configuration settings.
Improved Pre-Boot – A new and improved Ubuntu Pre-boot Authentication (PBA) Kernel offers better support for 64-bit systems and external devices connected at pre-boot.
Latest OS Ready – SecureDoc 8.2 supports the latest OS releases – Windows 10 RS4 and macOS 10.13.4.
More Flexibility
Flexible Licensing – Our new SecureDoc Essentials for Windows license offers a lightweight, low-cost alternative to manage and protect BitLocker-enabled devices.
More VDI Coverage – WinMagic now supports VMware Horizon and Citrix XenDesktop to help organizations protect their data as they migrate from physical to virtual desktops.
Improved Security
Always-On Encryption – Our SecureDoc File Encryption (SFE) upgrade now offers 'Persistent Encryption' (PE) to ensure information is protected wherever it moves, with settings to restrict access by users and applications.
Related Resources