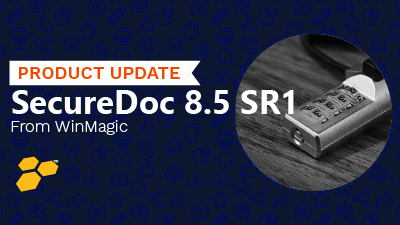 Today we're proud to announce the release of SecureDoc 8.5 SR1, including new features and improvements to make your customers' SecureDoc environments simpler and more secure than ever!
For more information, please view the Release Notes.
What's New in 8.5 SR1?
Introducing our newest product, BitMana
BitMana is a lightweight BitLocker management solution, built off our comprehensive SecureDoc Enterprise solution. It's perfect for organizations that have small or stretched IT teams and can be deployed in as little as 24 hours from the time of order, with no hassles. Read more about BitMana.
New security integrations for SecureDoc clients
ADSync now supports synchronization within a Microsoft Azure AD source
Port Control now supports dynamically-created device lists
Several improvements to SecureDoc FileVault2 clients including a configurable option in the SDFV2 profile to rotate the Recovery Account Password on custom period settings
Support for latest OS releases
How Do I Upgrade?
WinMagic recommends upgrading to the latest service release for SecureDoc 8.5 SR1 and later to improve reliability and security of your SecureDoc environment.
Please contact sales@rjrinnovations.com for more information.