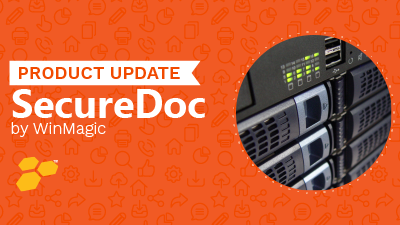 On May 23rd WinMagic announced to their customers the launch and availability of SecureDoc 8.3 SR1.
Including new features, improvements and OS support updates to make SecureDoc simpler and more secure than ever!
For more detailed information on this release, please download and view their Release Notes.
Customers may contact support@rjrinnovations.com with any questions or concerns about this release.
WinMagic recommends upgrading to the latest service release for SecureDoc 8.3 SR1 and later to improve reliability and security of your SecureDoc environment.
What's New in 8.3 SR1?
New Feature
New Monitoring and Health Check in SDConnex
Improvements
Improved user experience for the portable Removable Media Encryption viewer, now supports many more default File Explorer controls
Improvements to the PBA Compatibility Tool, now supports UEFI (Knowledge Base Article 1796)
Better deployment and user staging improvements for macOS, SD Linux and OSA clients
and more.
OS and Security Updates
Support for Windows 10 May 2019 Update (1903)
Support for macOS Mojave 10.14.5
Support for Linux (RHEL 7.6 and Ubuntu 18.04.02)
Improved SED management relating to Persistent Key Transfer mode (Knowledge Base Article 1799)
Related Resources